ABOUT ME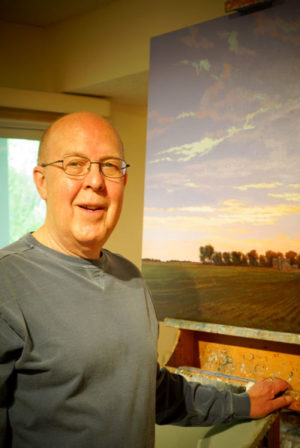 I was born and raised in the small, Midwest farming community of Harlan, Iowa. After graduating from the University of Iowa with a BA degree in art, I worked as an art director at Foote, Cone and Belding in Chicago and exhibited my artwork at the Gilman Gallery. Finding that the advertising world was not exactly my cup of tea, after four years I moved to Amherst, Massachusetts, there completing an MFA degree in painting at UMass Amherst. Upon graduating, it was across the country to Los Angeles where I began a career in graphic design and exhibited at the Jody Scully Gallery.
Back to the Midwest
After 10 years in L.A., the Midwest beckoned and Minneapolis looked like a great place to work and call home. In 1992 I concluded my career in graphic design and became a full time artist. Since then I have had one person exhibits at the Plains Art Museum, Luther College, Groveland Gallery, the Minnetonka Center for the Arts and Crown College among other venues. My paintings are in many private and corporate collections including American Express, Bank of America, Cargill, Federal Reserve Bank of Minneapolis, Mayo Clinic, Park Nicolette and Wells Fargo. The U.S. Department of State Art in Embassies Program selected my paintings for loan to American ambassadors' residences in Germany, Micronesia and Burma.
Kind Words
Art critic Mary Abbe of the Minneapolis Star Tribune wrote of my work, "Krogstad is a poet of rural places, the wide skies arching over fallow fields, river valleys and farmsteads." Rusty Freeman, VP of Curatorial Education at the Plains Art Museum wrote, "He makes the ordinary elements of the landscape – fields, rivers, skies – extraordinary through the careful use of color and value, lending his landscapes a spiritual demeanor."
Home Life
My wife Christine, our cat Dharma and I live near Minneapolis in the small town of St. Bonifacius. Our daughter, Lindsay, her husband Jeff and their two young daughters, Pearl Hannah and Marion Rose live in Boise. Our refuge is a 100 year old cabin in western Minnesota on Big Stone Lake in Big Stone County. This area has everything that I love to paint – big skies, prairies, marshes, colorful sunsets – and spending time there is both relaxing and inspiring. Christine and I love being there and we have reconnected with Nature and a simpler life. I paint there in the mornings while Christine does her yoga practice and in the afternoons we often explore the countryside.
ABOUT MY WORK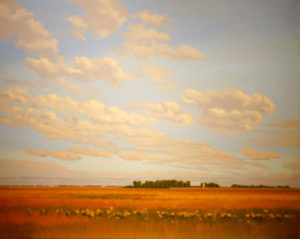 My oil paintings depict the skies, fields, rivers, lakes and woods of the rural Midwest landscape. One of the pleasures of this work is exploring the countryside in search of places that grab my interest. I can't exactly say what I'm looking for but, when I see it, there is just a rightness to it. It could be the way a barn is situated in a pasture or how a cloudy sky floats above a great expanse of land or how a group of trees is reflected in a lake, late in the day. These are rather ordinary things, really, but at the same time there is something extraordinary about them.
Seeing the Poetry
Painting is my way of connecting with and honoring the land. I sense there is a spiritual significance to nature's forms, a spiritual landscape within a physical one. A scene need not be spectacular to convey this – there are no Grand Canyons or mountain ranges in Minnesota. Nonetheless, there are special places, often overlooked, that have a quiet, tranquil quality about them. Such places are small parts of the web of life that links together all beings and all places. I see my highest goal as connecting with this quiet wonder and sharing it by making the best paintings I can.
Doing the Work
Using my experience from outdoor (plein aire) painting, I primarily paint in studio these days. Unfortunately, too many years of too much sun exposure has left my skin and my system prone to undesirable conditions. So I primarily use photo references I have taken during many trips out into the countryside. I paint inside but think like I'm outside. Also I have gathered, over the years, reference files of sunsets, cloud formations of all kinds, trees, barns, and so on to which I can refer for visual information. So my painting work is a combination of all these things, rendered in oil paint in such a way as to be an acceptable depiction of the natural world and yet somehow (this is the magic part) transcending it.
The Payoff
When I tell someone I am an artist, their response is often, "Oh, you are so lucky." I think the picture they have in mind is very different from the daily reality of the working life of an artist. That being said, I would agree that I am, indeed, very lucky. I think "blessed" wouldn't be too strong a word. To me, the payoff is simply doing the work – not doing a good painting (although that is nice too ). In fact, thinking about doing a good painting while I work pretty much guarantees that it won't be a good painting. My best work is done when I realize that four hours have passed and I don't know where the time went. It is very much like meditation.